Russia-Ukraine War News highlights (Oct 18): The death toll from the crash of a Russian warplane into a Russian city rose to 15 on Tuesday, including three people who died when they jumped from a nine-story apartment building to escape a massive blaze, authorities said. A Su-34 bomber came down Monday in the Sea of Azov port city of Yeysk after one of its engines caught fire during takeoff for a training mission, the Russian Defense Ministry said. It said both crew members bailed out safely, but the plane crashed into a residential area, igniting a huge fire as tons of fuel exploded on impact.
Meanwhile, Ukrainian President Volodymyr Zelenskyy accused Russia of terrorising and killing civilians following air attacks on Ukrainian cities on Tuesday. He said one person had been killed in a missile strike on a residential building in Mykolaiv, adding: "Ukraine is under fire by the occupiers. They continue to do what they do best — terrorise and kill civilians."
Ukraine's state nuclear energy company accused Russia Tuesday of "kidnapping" two senior staff at the Russian-occupied Zaporizhzhia nuclear plant in southern Ukraine. The power station's head of information technology, Oleh Kostyukov, and Oleh Oshek, an assistant to the plant's director, were seized on Monday, Energoatom wrote on the Telegram app on Tuesday.
The death toll from the crash of a Russian warplane into a Russian city rose to 15 on Tuesday, including three people who died when they jumped from a nine-story apartment building to escape a massive blaze, authorities said.
A Su-34 bomber came down Monday in the Sea of Azov port city of Yeysk after one of its engines caught fire during takeoff for a training mission, the Russian Defense Ministry said. It said both crew members bailed out safely, but the plane crashed into a residential area, igniting a huge fire as tons of fuel exploded on impact. (AP)
A senior Ukrainian official says Russian attacks have damaged more than 400 infrastructure targets across Ukraine since early last week.
The Minister for Communities and Territories Development of Ukraine, Oleksii Chernyshov, said Tuesday that Russian missiles and Iranian-made drones have struck 408 Ukrainian targets since Oct. 10.
The targets included 45 energy facilities. He said that more than 180 civilian buildings were also struck.
Vladimir Putin's grip on power in Russia remains firm despite military setbacks in Ukraine, a botched mobilisation, and political infighting, eight well-informed sources said, but some said that could change fast if total defeat beckoned.
Most of them said the Russian president was in one of the tightest spots in his more than two decades in power over Ukraine, where his invading forces have been pushed back in places by a Western-armed Kyiv.
But the sources, including current and former Western diplomats and government officials, said no imminent threat was apparent from his inner circle, military or intelligence services. "For the moment, Putin is hanging in there," said Anthony Brenton, a former British ambassador to Russia. (Reuters)
Ukraine received 2 billion euros in financial assistance from the European Union, the first tranche of a 5-billion euro EU package following Russian's invasion, the Ukrainian prime minister said.
"The additional financial resource will help to cover urgent budgetary expenses, in particular for the social and humanitarian spheres," Prime Minister Denys Shmyhal wrote on the Telegram messaging app.
The Kremlin said it had no information about whether or not Iranian "Kamikaze" were used in large-scale attacks against Ukraine earlier this week. Leaders in Ukraine have accused Russia of using Iranian Shahed-136 drones in attacks against Kyiv.
Asked if Russia did use the Iranian drones in the attack on Monday, Kremlin spokesman Dmitry Peskov said the Kremlin did not have any information about their use. (Reuters)
Air strikes cut power and water supplies in a repeatedly bombed Ukrainian city and pounded energy and infrastructure facilities elsewhere in the country on Tuesday, part of an apparent quickening effort by Russia to drive Ukrainians into the cold and dark as winter bites.All of Zhytomyr, a city with military bases 140 kilometers (85 miles) west of the capital, was without electricity and water after a double missile strike on an energy facility, said Mayor Serhiy Sukhomlyn.
Hospitals were left running on backup power, he said. Missile strikes also hit an energy facility in Kyiv and severely damaged another in the south-central city of Dnipro, authorities said. (AP)
Russian air strikes have destroyed 30 percent of Ukraine's power stations since October 10, Ukrainian President Volodymyr Zelenskiy said.
He wrote on Twitter that the attacks had caused massive blackouts across Ukraine and that there was "no space left for negotiations" with Russian President Vladimir Putin. (Reuters)
A preliminary investigation of damages to the two Nord Stream gas pipelines in the Danish part of the Baltic Sea shows that the leaks were caused by "powerful explosions", Copenhagen Police said in a statement Tuesday.
Further investigations into the Sept. 26 ruptures of the Nord Stream 1 and 2 pipelines in Denmark's exclusive economic zone will be handled jointly by Copenhagen Police and Denmark's Security and Intelligence Service.
The Danish findings appeared to be similar to those of Swedish prosecutors, who said two other holes in the pipelines also seemed to have been caused by explosions and that the case was being investigated as an act of gross sabotage. (Reuters)
Russian forces carried out new air strikes on Ukrainian energy facilities Tuesday, causing several explosions in an area of northern Kyiv where there is a thermal power station.
Kyrylo Tymoshenko, deputy head of the presidential office, said there had been three Russian strikes on an unspecified energy facility. City mayor Vitali Klitschko said the attack was on "critical infrastructure" in northern Kyiv, where Reuters witnesses saw thick smoke rising into the sky.
Neither official said whether the thermal power station had been hit. They also gave no casualty details. (Reuters)
Ukrainian President Volodymyr Zelenskyy accused Russia of terrorising and killing civilians following air attacks on Ukrainian cities Tuesday.
President #Zelenskyy published more footage showing the consequences of the night strike on #Mykolaiv. pic.twitter.com/RX4CSPH2uc
He said one person had been killed in a missile strike on a residential building on the southern city of Mykolaiv but gave no other details of casualties.
"Ukraine is under fire by the occupiers. They continue to do what they do best — terrorise and kill civilians," he wrote on the Telegram messaging app. "The terrorist state will not change anything for itself with such actions. It will only confirm its destructive and murderous essence, for which it will certainly be held to account." (Reuters)
The northern Ukrainian city of Zhytomyr was left without water and electricity supply after Russian air strikes on Tuesday morning, its mayor said Tuesday.
#russian missiles&drones attacked #Kyiv, #Kharkiv, #Dnipro, #Mykolaiv, #Zhytomyr this morning. The terrorists hit civilian and energy infrastructure objects.
Zhytomyr left with electricity&water supply. Mykolaiv shelled by C-300 missiles.#russiaisaterrorisstate #StandWithUkraine pic.twitter.com/gQrIw1JeKw
"There is currently no light or water in the city. Hospitals are on reserve (power) supplies," mayor Serhiy Sukhomlyn wrote on Facebook. Zhytomyr had a population of 260,000 before Russia's invasion of Ukraine on Feb. 24. (Reuters)
Ukraine's state nuclear energy company accused Russia Tuesday of "kidnapping" two senior staff at the Russian-occupied Zaporizhzhia nuclear plant in southern Ukraine.
The power station's head of information technology, Oleh Kostyukov, and Oleh Oshek, an assistant to the plant's director, were seized on Monday, Energoatom wrote on the Telegram app on Tuesday.
"At present, nothing is known of their whereabouts or condition," Energoatom's statement said. (Reuters)
➡️ Russia attacked Ukraine with drones late on Monday, Ukrainian President Volodymyr Zelenskyy said, after a day of strikes on cities in which at least four people were killed and a US warning that it will hold Russia accountable for war crimes.
New: The October 17 drone attack on residential infrastructure in #Kyiv is consistent with the broader pattern of #Russian forces prioritizing creating psychological terror effects on #Ukraine over achieving tangible battlefield effects.https://t.co/QnYieBTcgz pic.twitter.com/txMM9rk8u3
➡️ Ukraine said the attacks were carried out by Iran-made "suicide drones". The United States, Britain and France agreed that Iran supplying drones to Russia would violate a UN Security Council resolution that endorsed the 2015 nuclear deal between Iran and six powers.
➡️ Iran stuck to its denial that it is supplying drones to Russia, while the Kremlin has not commented.
➡️ Russia said it had carried out "massive" strikes on what it called military and infrastructure targets. (Reuters)
The Pentagon is considering paying for Elon Musk's Starlink satellite network in war-torn Ukraine, Politico reported on Monday, citing two US officials involved in the discussions.
The hell with it … even though Starlink is still losing money & other companies are getting billions of taxpayer $, we'll just keep funding Ukraine govt for free
The most likely source of funding would be the US Department of Defense Ukraine Security Assistance Initiative, designed to support the country as it fights Russia, the report added.
Musk had said on Friday that SpaceX could not indefinitely fund Starlink in Ukraine, but backtracked over the weekend to assert the rocket company would continue to fund the service in the country. (Read more)
Russia has not yet notified the United States about exercises of its nuclear forces that Washington expects Moscow to carry out soon, a senior US military official said Monday.
The United States says Russia will likely carry out test launches of missiles during its annual "Grom" exercises of its strategic nuclear forces, perhaps in just days.
Under the New START Treaty, Russia is obliged to provide advance notification of such missile launches, US officials say. That has yet to come, the US military official said, speaking on condition of anonymity. "No, we have not received any type of official notification," the military official told reporters. (Reuters)
Russian fighter plane crashed into a residential building in the southern Russian city of Yeysk on Monday, engulfing apartments in flames, the regional governor said.
Footage showed a large fireball erupting from a multi-storey building. Russian news agencies said the pilots had ejected.
Governor Veniamin Kondratyev said the plane was a Sukhoi Su-34, a supersonic medium-range fighter-bomber. (Read more)
South Korea's Hyundai Motor is considering a decision on its Russia operations that could include selling its manufacturing plant there, a local media reported on Tuesday.
Hyundai Motor recently submitted to management a report analysing the situation and future prospects in Russia, Dong-a Ilbo newspaper said, citing an unidentified auto industry source.
The newspaper said Hyundai's report includes the company's analyses of the scenarios and impact of the sale of the Russia plant, citing the difficult environment to conduct normal financial activities. (Reuters)
Ukraine and Russia exchanged a total of 218 prisoners on Monday. Ukrainian authorities said Kyiv had swapped 108 prisoners in the first "all-female" exchange.
Ukrainian President Vlodymyr Zelenskyy said in his nightly video address that "96 [of the swapped prisoners] are servicewomen, including 37 evacuees from Azovstal, and 12 are civilians." He thanked "all involved for this success," and urged Ukrainian troops to take more prisoners.
"The more Russian prisoners we have, the sooner we will be able to free our heroes," Zelenskyy said. "Every Ukrainian soldier, every frontline commander should remember this." (DW)
Russia has opened a criminal investigation after gunmen shot dead 11 people at a military training ground near the Ukrainian border, authorities said on Sunday, as fighting raged in eastern and southern Ukraine.
The mayor's office in a key eastern Ukrainian city controlled by pro-Kremlin separatists was struck by rockets on Sunday morning, Russian state agencies reported. There were no immediate reports of casualties.
According to RIA Novosti, the municipal building in Donetsk was seriously damaged by the attack, which local separatist authorities blamed on Ukraine.
Photos circulating on social media showed plumes of smoke swirling around the building, rows of blown-out windows and a partially collapsed ceiling. RIA Novosti and local media also reported that three cars parked nearby had burnt out as a result of the strike. Read more.
Beside an abandoned Russian military camp in eastern Ukraine, the body of a man lay decomposing in the grass — a civilian who had fallen victim to a tripwire land mine set by retreating Russian forces. Nearby, a group of Ukrainian deminers with the country's territorial defense forces worked to clear the area of dozens of other deadly mines and unexploded ordnance — a push to restore a semblance of safety to the cities, towns and countryside in a region that spent months under Russian occupation.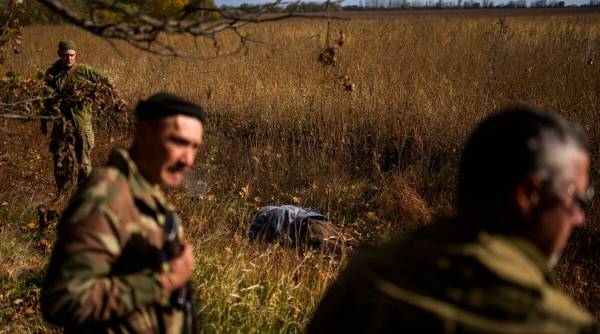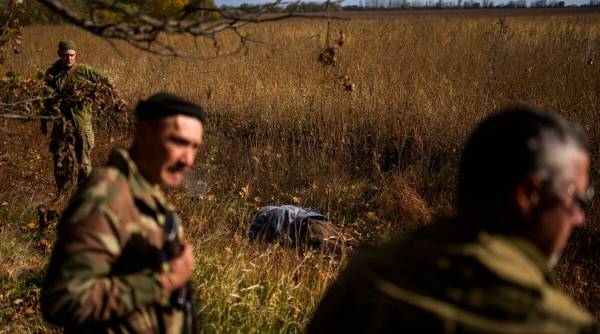 They exploded with dull thuds on the outskirts of towns and detonated in the center of cities with deafening booms. Strikes in Kyiv, Ukraine's capital, left cars burning and splatters of blood on the sidewalks.
Throughout this week, the Russian military fired its most intensive barrage of missiles at Ukraine since the start of the war in February, killing three dozen civilians, knocking out electricity and overwhelming air defenses. One thing the missiles did not do was change the course of the ground war.
Fought mostly in trenches, with the most intense combat now in an area of rolling hills and pine forests in the east and on the open plains in the south, these battles are where control of territory is decided — and where Russia's military continued to lose ground, despite its missile strikes.